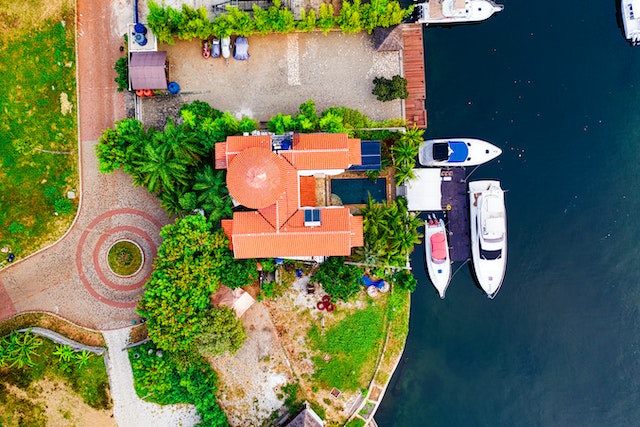 Florida has always been an attractive destination when it comes to real estate investment. Overall affordability, laid-back lifestyle, an amazing climate and so many fun things to do make this state one of the most popular places to move, but also buy a property to rent. However, properties located on the beach attract most of the attention, and there are a couple of reasons for it. If you're still not sure whether you should invest in a Florida waterfront property, then you're in the right place. Here are the top five benefits of owning a home with a sea view in the Sunshine State. 
Less risk of a value drop 
When it comes to waterfront properties, you have less to worry about their value decreasing over time. In fact, these properties are much more resistant to recession or any other issues that can happen on the market. Their value usually goes up over the years, so there's a better appreciation rate. Compared to inland properties, their appreciation rate goes up a lot faster, so there's a need to worry about selling them. In case you decide to sell after some time, you can expect a great ROI and lose no money in this sale. 
It's easier to sell a waterfront property 
When comparing waterfront and inland properties, homes at the beach sell faster. This can be an important factor if you're investing in a Florida waterfront property to upgrade it and then resell it. People move to Florida for its amazing climate and of course – access to the beach. That's why one of the reasons to invest in a Florida waterfront property You can expect the property to spend less time on the market and of course – a higher resell value. However, be sure to do upgrades that are relevant to the buyers from Florida, so they recognize the true quality of your property and decide to make a purchase much easier. 
An attractive rental location 
Owning a waterfront property in Florida can be a great source of income. Such homes are easy to rent, for both long-term and short-term tenants. Investing in a waterfront property in Florida is a smart way to start a financial strategy that will bring you passive income until you decide to sell or maybe even move into that property. You'll make a profit, build equity and have a property you can sell whenever necessary. Due to its climate, Florida's rentals season is quite long, so there are plenty of opportunities to find tenants. 
Remember: Moving into a new home can be tough if you don't have a lot of experience. Don't leave anything to chance, and find the best people to deal with your move. Residential relocations include a lot of tasks and a helping hand from a professional is always a great thing to have. 
Beautiful environment 
Living close to the ocean is a great way to run away from the city and be surrounded by nature. Florida waterfront properties have access to the beach, which means living with the most amazing sea view and the sound of waves. Living in such an environment will bring additional peace to your household. This is particularly useful if you've lived in a loud, busy place with lots of people and traffic. Drinking your first coffee in the morning while listening to waves can be a new routine to look forward to, and start your day the right way. Spending more time in such a serene environment can improve your physical and mental health and help you feel great no matter what day of the week it is. 
A second home or a place to retire
Another amazing reason why you should invest in a Florida waterfront property is to have a perfect second home for your vacations, but also a place to retire. Florida is one of the most popular retirement destinations, so this investment can be a part of your long-term plan. Also, having a second home is always a great idea. You can always have a place to go to spend a couple of days off, without having to book hotels and do any additional reservations. 
If you're looking for a place to retire, a beautiful waterfront home will be the right choice. However, don't forget to ensure a safe senior moving to make this experience as smooth as possible. Browsing a secure database such as bestmoversinflorida.com will lead you to a suitable team that will provide all the assistance necessary to make this new property a home. Start your retirement days on the right foot!
What are the best places in Florida to invest in a waterfront property? 
Even though the Sunshine State is amazing for any kind of real estate investment, certain locations stand out from the rest. Some of the best places to look for a waterfront property include:
Anna Maria Island

– known for amazing beaches and lovely shops and cafes, this island can be one of the best places to invest in a Florida waterfront property. This paradise island is the place people look for perfect sandy beaches, but also a peaceful place to live. 

Daytona Beach

– if you are looking for a place that's close enough to Orlando but still has access to high-class beaches, Daytona Beach is the right place to go. You'll be able to find relatively affordable waterfront properties that are easy to rent or sell. 

Cape Coral

– this gem of the Gulf of Mexico is one of the best waterfront locations in the real estate world. There are so many properties to choose from, and the place offers a high-quality lifestyle to its residents. 
Investing in real estate can be an amazing step toward securing your finances in long term. And investing in a Florida waterfront property will secure that move even better. With a proper plan and the right people to rely on, this can be an investment you'll never regret. 
Meta: Let these five reasons to invest in a Florida waterfront property convince you to make a move and get a new home with the best view. 
https://www.pexels.com/photo/high-angle-photo-of-three-white-boats-beside-brown-building-2523186/