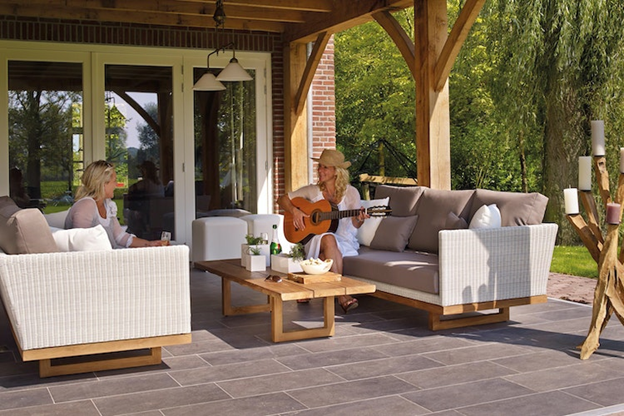 When it comes to home design, people often neglect their outdoor space. They pour all the effort and creativity into the interior and let the outside look basic or completely ignore it. A lot of the time it's because they simply don't know what to do with that area. And that's a shame because patios can be one of the best parts of your home. They are a place where you can host dinner parties and have family celebrations, especially during those sunny summer days. Thankfully there are a lot of trendy and chic patio ideas and we will explore that in our article. So if you are one of those people that doesn't know what to do with their patio, you should take a look.
Some of the patio ideas
We will share some of the many patio ideas you can choose from. There will be some very affordable ones and some that are a bit more expensive, but you can still make it work. For example, if you are moving into a new home, you can reuse the patio furniture from your old home and just change it up a bit and add some details. In this case, according to experts at Royal Moving Company, you should get exerts to help you move patio furniture as it can be very heavy and hard to transport. You shouldn't risk damaging it in the process. Now here is the list:
A covered patio
Natural vibes
A patio kitchen
Table as a main feature
A herb garden
Use colors
Make it cozy
Add a projector
Caption: Cover your patio so you can use it more Alt text: A patio covered with fabric
Make a covered patio
Patios aren't just for summer months. You shouldn't let the weather dictate how often you can use it. If you want to be able to go outside and enjoy yourself with your friends and family, then you should invest in covering your patio. And don't worry about the price, there is an affordable way to make a covered patio that will also look really trendy and chic. First, if you want to go the cheaper route, you can use simple fabric to cover your patio. And though it may not be useful during big storms, it will be a great shelter from the heat on those extremely hot days. But if you want to cover your patio so you can use it no matter how bad the weather gets, then an aluminum roof is the right choice. This material is extremely durable, it may be a little pricier than just fabric, but it truly pays off in the long run.
Caption: One of the trendy patio ideas is going with a natural vibe, greenery, and earth tones Alt text: A patio with wooden furniture and plants
Go natural
One of the very trendy patio ideas is to go completely natural with that area. That means going with all earth tones and a lot of plants and flowers. This idea is easily doable and yet very trendy. It's all about using wood and stone for your patio furniture. A stone fireplace would be an amazing feature here. Obviously, with a natural, woodland-like patio, you will need a lot of greenery to make it look very striking. With a patio like this, it is best to go with warm instead of cool light as it looks more natural and creates a better atmosphere.
A patio kitchen
As we said already patios are great for having dinner parties and entertaining, then why not mix those two things completely together? A patio kitchen is a trendy yet very practical idea. Food brings people together and making dinner together in your patio kitchen can be an incredible bonding experience. Of course, the realization of this plan will depend on the size of your patio and your financial abilities. Just make sure it is all nicely spaced out and practical. If your space is limited then a simple small grill will be just enough, but if you have enough space and money invest in a full outdoor kitchen and make dinner parties on the patio unforgettable.
Make the table the main feature
If you are not sure how you want our patio to look it's always best to start with one main feature and then build around it.  The main feature of the patio should be the table. If you have a big family and often have a lot of people over for outdoor dinners or lunches, invest in a big quality table where everyone can fit comfortably. Here you need to be smart about the materials you use. It's best to get a hardwood table. It's much stronger and more durable. These tables are a little more expensive but absolutely worth it. They can truly shine on your patio, especially if you choose a rich color or some pattern.
Caption: You can add a small herb garden to your patio Alt text: Man cutting herbs with scissors
Incorporate a small herb garden
When it comes to patio ideas that are both chic and practical, we cannot skip the concept of adding a small garden. Your patio is a perfect place for a small garden where you will be able to grow herbs such as basil and parsley. This will give your patio another purpose and a nice warm vibe. And the best part about it is its affordability. You won't need professional help with this,  you can make a herb garden on the patio all by yourself.
Go colorful
People are often afraid of using bright colors in their designs, whether it's outside or inside. But this is a mistake because they can truly elevate the look. The same goes for patios. If you are someone who likes fun colors like red, purple, or yellow, you should let them show on your patio. Use your favorite colors to make a cozy and fun patio that both adults and kids will love.
Make it cozy
A patio should be both aesthetically pleasing and cozy. Make it a place where your family goes to relax and be comfortable. Look for comfortable lounge chairs and sofas. Get a lot of comfortable throw pillows to add extra comfort. And you can add one more detail to make it even cozier but also add a personal touch. Make personalized blankets for family members and closest friends. So when you all go outside on the patio and it gets a little chili, everyone has their own blanket.
Add a projector
Make the patio your home theater. All you need for this patio idea is a comfortable outside sofa and a big home projector. This will truly make the patio the main place for socializing in your home. You can have fun family movie nights. Or your kids can have their friends over for a movie night and a sleepover. It will be a guaranteed hit!
In conclusion
Here are some of the most trendy and chic patio ideas. There is something for everyone's taste and everyone's budget. The main thing is to be creative and open to new design ideas.
Meta description: If you are thinking of sprucing up the outside of your home, you should check out these trendy and chic patio ideas.
KW- patio ideas
Images used:
https://www.pexels.com/photo/afternoon-architecture-chairs-contemporary-271815/
https://www.pexels.com/photo/afternoon-architecture-chairs-contemporary-271815/
https://www.pexels.com/photo/decor-of-patio-6314322/
https://www.pexels.com/photo/person-holding-black-scissors-3912947/