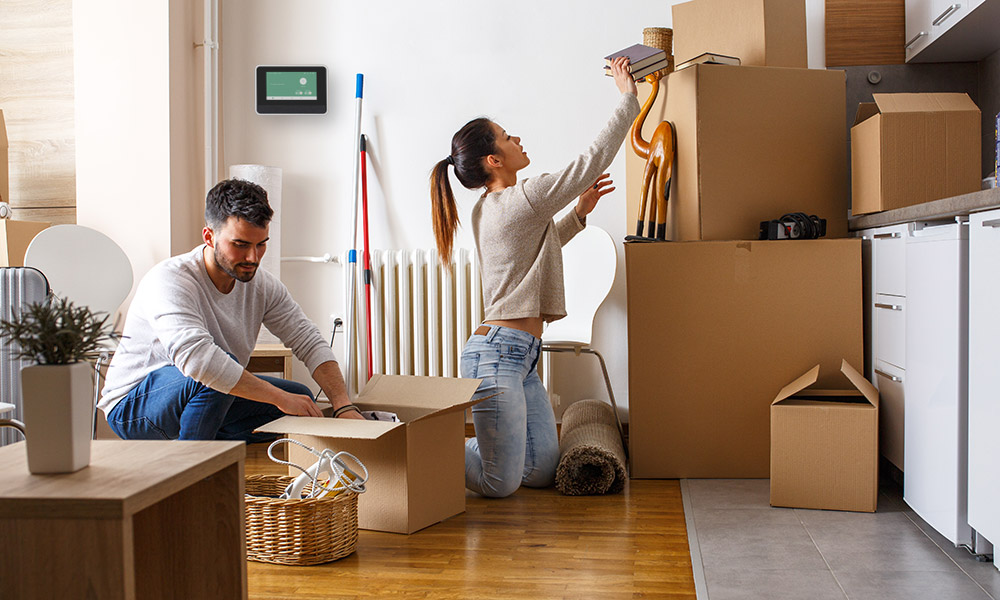 When moving hundreds or thousands of miles across the country, the preparation phase is essential to the entire operation's success.
If you prepare well for the upcoming move, you will have a smooth experience that you and your family will enjoy.
There's nothing better than starting your new life hassle-free, so ensure you plan your long-distance move the right way!
Make a plan ahead of time
You are about to move your possessions hundreds or thousands of miles away. Such a big undertaking requires planning.
Whether you want to go with the flow or keep a spreadsheet of all your moving-related to-dos, you should write down all the tasks that you need to complete to have a successful move.
Once you have a plan, you need to stay on schedule. Time-sensitive tasks, such as installing utilities or enrolling in school, should not be scrambled to finish everything at the last minute.
Try scheduling time on your calendar or setting reminders on your phone for moving-related tasks so you don't forget what you need to complete and when.
Research house removals services
Since you are moving a long distance, you must do everything possible to find the right moving company. Part of this process is getting estimates from at least three removals companies. Try to obtain all the quotes at least four weeks before the move, but the sooner, the better.
Remember, properly preparing for the estimate will ensure the estimated price is as accurate as possible.
Once you have several quotes and compare prices, try to contact a reputable house moving company that is as trustworthy and reliable as possible.
Affordability is important regarding this decision, but remember that the cheapest option is not always the best. You don't want to get caught up in a moving scam when you are about to move thousands of miles away.
Browse online reviews, ask friends around, and visit some Facebook groups for moving in your area, so you can receive as much feedback as possible regarding the company you decided to trust.
Take care of important documentation
Changing your address requires updating your information in many different locations. However, if you are moving long distances, it becomes even more complicated.
You may need to update your driver's license, registration, and other important documents. Plan well before your move and discover everything that needs updating.
Apart from your licenses, things to consider are banks, utilities, notifying your boss or HR, local newspaper you may be subscribed to, cable, TV, and others.
Those things take time, as you need to contact each and every supplier individually, so create a list and ensure that you tick through all the boxes before the time for your move has come.
Declutter and downsize
While you should get rid of unused items before any move, one of the best long-distance moving tips is to downsize significantly.
Get rid of clothes you haven't worn in the last year, kitchen appliances you've never touched, books you no longer intend to read, etc.
Seriously, you should throw out, donate, or have a garage sale of anything you don't use, like, or need to live with. By organising your belongings, you may be able to lower your moving estimate and make packing and unpacking much easier.
Pack smartly and label boxes
While the best packing hacks still apply, moving long distances requires additional packing work.
For example, you have to carefully wrap all fragile items in bubble wrap, paper, or old t-shirts with great care. Pack them together to keep them organised, and tell the movers to pay special attention to these boxes. You want to add a "fragile" label so others know to be extra careful.
Unpacking will be much easier if you do not throw everything you have into the boxes at random. Instead, you will need to pack your belongings room by room.
For example, if you have a desk, you could put everything on the desk in one box. Also, numbering each box the same as your inventory list is very helpful when the packages arrive home later.
Other labelling options could include naming the room and adding a second label with a number based on the priority. For example, when unpacking in the kitchen, you want to get all the cutlery and plates out before the big pans.
If you are moving with more than one family, removals will put your belongings on the moving truck with the other boxes. This happens quite often.
To avoid mixing up your belongings or having them unloaded in the wrong place, label all boxes clearly with your name. Packages you are worried about losing should also be marked with your phone number in case they are lost.
Prepare a box of essentials
Once you start packing, prioritise what you need to keep. Pack open the first box for towels, bedding, pots and pans, dishes, and other items you will need for the first few weeks. Don't forget to pack your toiletries, favourite clothes, and personal essentials in your suitcase.
You will often arrive way before the moving truck, so having essentials ready to go is important to comfortably spend the first few hours, night, or even a few days. If you need any medication or have specific items that you must have near you, ensure that you add them to the essentials.
Move during the off-season if possible
Most people choose to move in the summer when local moving companies have the highest quotes. If you can, move during the off-season.
This will save you hundreds of pounds and make the entire move much easier. If that is difficult, arranging house removals on a weekday or mid-month can also help save some cash.
Another important factor to consider is the traffic in the area where you are moving from and to. Since streets tend to get busier in the summer, moving house during the off-season will allow for a faster and better move, reducing the final cost.
Conclusion
While there is no guarantee that there won't be any unforeseen circumstances, planning your move well ahead of time will allow you to reduce the chances of issues occurring.
Even if that happens, you will have sufficient time to resolve problems without stressing too much.